Start
The start module gives you a clear overview of your installation. The key performance indicators on the bottom of the screen instantly tell you the status of your system. The start module has many functions such as fleetview (information about all your installations), user and rank management, reports and worklists, documents, contacts, location data and more. The start screen is personalized for each installation.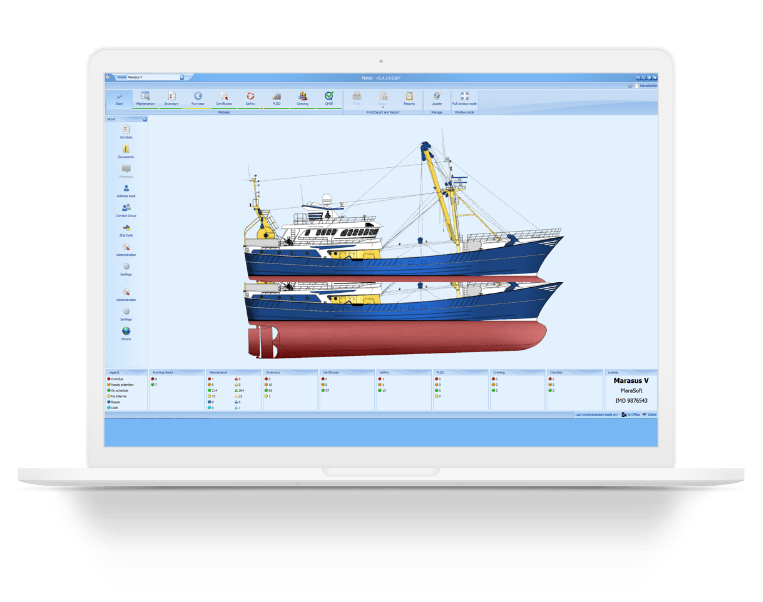 Features
Fleetview
Comprehensive graphical/numerical overview of your entire fleet
User/rank managing
Unlimited number of accounts and ranks with personal logins and traceable actions
Rank permissions
Permissions for each action/part of Marad can be set for every rank
Separated modules
Marad can be ordered per module to prevent costs for unused features
Extensive reports
Data reports of all modules including KPI's, budget and more
Automatic data sync
Both the online and offline locations can be automatically synchronized
Personalized start screen
Marad's start module launches with a customized picture of your vessel/location
Multi language
Marad is available in Dutch, English, German, Spanish, Russian and more
Documents
Company / location documents with tree structure
Desktop and online application
Marad can be used as a desktop application or accessed at www.marad5.com
Integration with API
Marad can be integrated in other systems using our API, documented in Swagger.