Get in touch
Please feel free to contact us if you have any questions/feedback about Marad or our company. You can also contact our support team directly at support@marasoft.nl
Company info
C.O.C. nr: 50567985
VAT nr: NL8228.07.476.B.01
IBAN nr: NL96 RABO 0312 0318 07
BIC: RABONL2u
Contact info
Burgemeester. J. Schipperkade 8a, 8321 EH Urk
+31 (0)527 258 346
info@marasoft.nl
P.O. Box 171, 8320 AD Urk, Netherlands
Business hours
Monday to Friday: 8 AM – 5 PM (closed from 1 PM – 2 PM)
Dealers
Naam: DeckOffice
Area: Scandinavia
E-mail: info@deckoffice.dk
Phone: +45 61700796
Website: deckoffice.dk
Naam: Transafe
Area: Europe
E-mail: info@transafe.info
Phone: +31 786824300
Website: transafe.info
---
About us
MaraSoft was founded in 1999 and had its 22th anniversary this year. Marad started as a compact and simple planned maintenance system, but has now grown into a complete type approved fleet management system with nine modules. Our headquarters is located right in front of the harbour entrance with a beautiful view over the IJsselmeer (the former Zuiderzee).
Development
The Marad team consists of twelve developers and five office employees. The main office is located on the former island of Urk, the Netherlands, which has a strong connection with the maritime industry. Urk has the largest fishing fleet and fish processing industry of the Netherlands. MaraSoft is a member of the Urk Maritime collective, an alliance of all marine specialists based on Urk.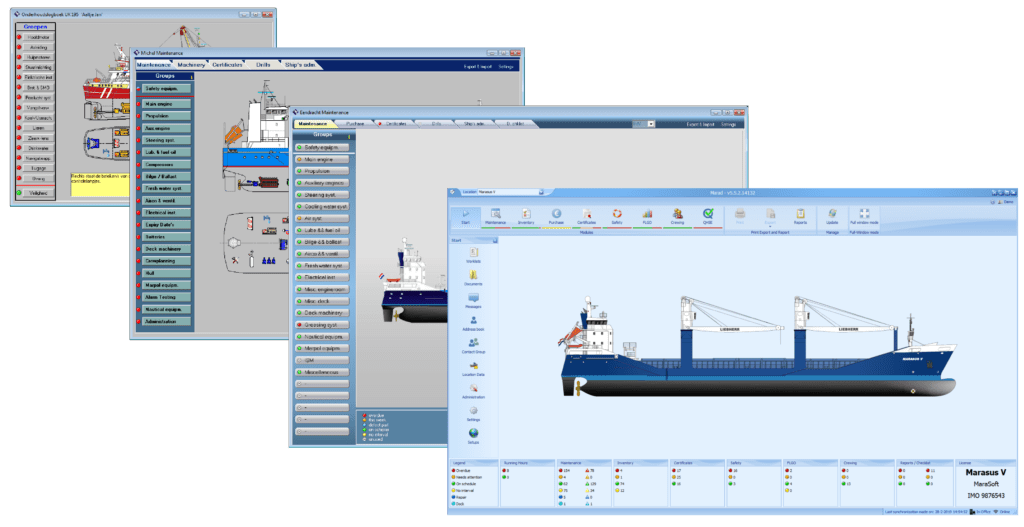 Philanthropy
MaraSoft is committed to making a social impact. We do this by supporting relief organizations, museums, training ships, sea cadets and more. More information about this can be found on our dedicated page.